I've had this post in it's composite parts for a few weeks now, it just hasn't happened as yet another busy period comes and goes leaving me a bit too drained to pursue anything creative. My current WIP is the Style Arc Ingrid winter coat that I really want to finish in time for my trip back to the UK for Christmas. Despite the deadline I want to really slow down for this project and to make sure I take real care to get this garment right. A good winter coat should be with you for years to come and only be retired once it wears out (or if it really lasts a long time, begins to look seriously dated). I've just completed my second muslin to test whether my adjustments to the pattern work and I'm not only happy with the fit, but also happy that I took the time to test everything again as the lapel on this coat pattern differs from that in the pattern illustration – how irritating!
As you can see from the notes above I've had to remove 13 cm length from this coat to fit my 157 cm frame. As not to negatively impact the scale of the pockets and double breasted closure on this coat I distributed that reduction in length between the waist, across the pockets as well as removing 5 cm from the hem. I'm happy with the results and feeling a little smug about how much control I have over these factors as a sewer.
I've never really been one for planning what I make, but recently however, I've been feeling that when I look at what's in my wardrobe there is little cohesion to what I see. I now want to take the time to put a little thought into what I make this season so I get more wear out of it. This planning session was then made a lot easier when I spotted the latest offerings this season in Country Road. I rarely see anything in CR that I normally like, however I often find that one particular shop in a season really grabs me with their collection and it seems to be CR's turn this time to turn out a lot of inspiring pieces. It probably helps that this summer they are borrowing heavily from the aesthetic of one of my favourite Aussue designers Obus.
I really love the ensemble above, a baby blue linen suite that balances dressy and nonchalant casual chic. It's simple in its design lines but has some interesting details that get me excited now that I have a few pattern making skills to play with. The pants have a straight leg with a semi open pleat running down the front and end with a taper for a slight cocoon shape. I love this silhouette however I'm not sure that it is one that will suit me, so I plan to make my version a tailored culotte instead. I'm more than happy to put the effort into drafting culottes as it is a pattern I plan like to make in grey wool come next winter. I'll get twice the mileage that way – ha!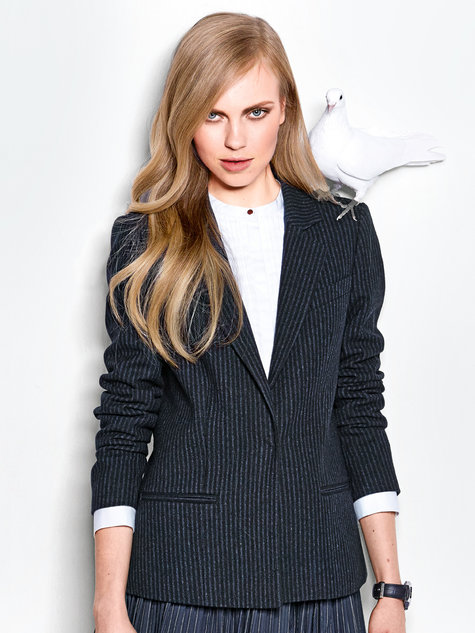 I think the #126 jacket from Burdastyle 8/2014 will be a great starting point for the linen jacket (minus the bird on the shoulder – arghh me hearties!!). I think I'll keep the notched lapel instead of converting it to a shawl collar, but I will loosen up some of the shaping in the side seam for a more boxy silhouette while keeping the front darts for waist shaping. I think swapping the welt pockets for patch pockets should be really straight forward as should copying the curved tapered shape at the front of the CR jacket. I'm undecided on whether to line it, I'd like it to be summery and breathable but also structured enough that it's still smart.

I really love the broderie Anglaise shirt below, enough that I actually tried it on in store. It was too boxy in shape on me though so I plan to replicate it with this fabric that I bought from a friend 'in the industry'. I've wanted a button down shirt that fits me since I started working and caring about looking more professional in my early twenties. As anyone with a large bust will tell you however, finding a shirt that fits properly is a nightmare and I can't believe I haven't tried to make myself one in the five years or so that I've been sewing! I'm really excited about making this one.
It's really interesting how my summer wardrobe has changed since living in Australia. Shorts were once the holiday staple that you felt lucky to wear on an ordinary summers day in the UK. You just couldn't rely on it being hot enough. In Melbourne shorts are an everyday staple that are practical and cool in the powerful Aussie sun. The casual separates below are all possible from Burdastyle patterns that I already own and items that I think I'll get a tonne of wear out of.
I don't have fabric set aside for the top and sporty shorts yet but I do have this tropical number for the wrap shorts/skort that I have plenty of squirrelled away for a Shaheen style dress using Gertie's B6019 that is in my near future:
Speaking of dresses, they are THE staple of my summer wardrobe. I love that they are a whole outfit in one garment which makes it easy to wear them and means you can have a variety of styles in your wardrobe without having to worry about paring items and making up outfits. I have the following plan for my Port Douglas souvenir wax print fabric.
So with all of these plans out there now and committed to screen, will I stick to it? Well, I can't promise I won't get a bit distracted by other pretty projects, but it is nice to have a few ideas jotted down and some direction and purpose to what I sew.