Since getting on the jersey dress bandwagon and sewing Tilly's Coco Dress I've gotten into a bit of a 'sewing with knits' frenzy. I LOVE this dress. It is comfortable, versatile and was the easiest dress to fit ever – you just pin down the sides and take in on the overlocker – done!
This week I've sewn three T-shirts out of stripy Jersey fabrics! (I'm also a bit obsessed about all things stripy right now too).
Two of the three are Sewaholic Renfrews, a versatile t-shirt pattern with three neckline options (V, scoop and cowl) and three sleeve lengths. The sleeves and hems also have cuffs which I omitted partly to save fabric and partly because I have a coverstitch on my overlocker. I made both of my renfrews with three-quarter length sleeves, extending the length of the three-quarter length sleeve pattern piece to the same length as the coco dress sleeve.
I then added some faux-leather shoulder panels to one of the T-shirts (tutorial coming) to add a bit of diversity and I'm really pleased with the results.
I finished one T-shirt off with the waistband pattern piece and the other I hemmed with a coverstitch.
The third T-shirt was a self-drafted kimono sleeve T-shirt which was a mixture of drafting from this tutorial by Miss P and measurements from one of my favourite Kimono T-shirts bought from M&S last year.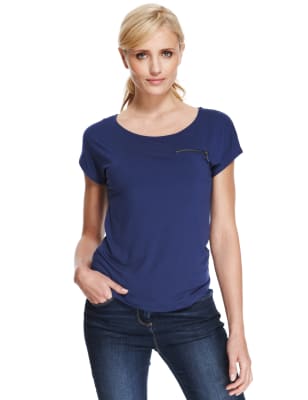 I'm really happy with the results! There maybe more projects made from knits in my future.
Note: Special Thanks to my SIL Jen for the photography.